At Westside Mechanical, over 30% of our mechanical construction projects are done on a design/build basis. We offer custom mechanical design/build services for commercial HVAC systems. Design/build commercial HVAC construction projects use a single manager or management firm from Westside Mechanical responsible for both the design and construction of a project. When you choose Westside Mechanical as your mechanical contractor for your custom HVAC system, design/build is a guaranteed service in addition to value engineering and preventative maintenance.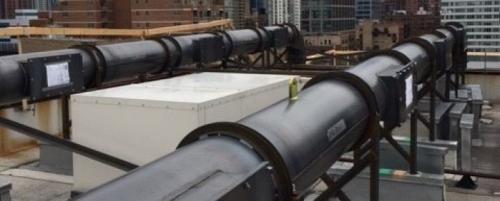 Why Use Mechanical Design/Build?
It provides a single point of accountability, eliminating potential disputes between the design professional and the contractor.
Our Engineering Team will work with you to identify your objectives, manage contractual details, and evaluate options to maximize energy efficiency, sustainability and cost validation.
Lines of communication are simplified, allowing for better engineering, a faster project delivery, and a more reliable mechanical system.
The project becomes a unified system allowing for early starts on construction and early procurement of critical materials.
Construction costs are locked in by eliminating the change orders that permeate the plan and spec construction delivery method.
What Does HVAC Design/Build Deliver?
Design Build saves money averaging cost reductions of 6% over traditional project delivery systems.*
Design Build saves time by delivering the project in 33% less time.*
Customers have a minimum 10% higher owner satisfaction measured one year after project completion.*
*Data Source: Pennsylvania State University – College of Engineering
Industrial Design/Build Services
We have carried out HVAC design/build services for the following markets:
Commercial
Industrial and Manufacturing
Laboratories
Healthcare
Data Centers
Education
To learn more about our work in these markets please check out our industry specific testimonials.
Need more information on Westside Mechanical's Design/Build process or already know what you are looking for? Contact or call Westside Mechanical today to save money and time while improving efficiency during the HVAC system construction process!